Save Room For The Pie !
CSA
We had a great dinner - and 4 kinds of pie. There was even a birthday cake! I hope your family had a great time together, too.
Sounds like everybody had a good time but the turkeys!
Thanks CSA…had a great time holding the newest grandchild and beginning the "spoiling"routine we have initiated on the others. If your "T" day was anywhere near as good as ours, I know you had a great one too.
Stay healthy, enjoy the day-take a walk tomorrow.
We had a bit of rough patch over the last 2 weeks, 1st I was sick in the hospital, then wife had surgery. All in all we are fine, but decided to stay home with the kids. Was actually more relaxing than previous years.
My family is postponing the festivities until Saturday so that everyone can be there. As for today, I spent the day at a friend's house helping him replace the water pump on his truck and was able to enjoy his feast with his family and friends once the job was done. He was sorely disappointed in the results of the Green Bay/Detroit game. As for me, I don't follow football and could care less, although it did look like a rough day for the Lions.
Our son takes turns making the trip to our house or to his wife's parents. This year, he visited his wife's parents. Both my wife and I retired from demanding jobs this past June, so we relished the quiet time together. We had the Thanksgiving special at a Cracker Barrel. At our ages, we like not having to work too hard.
I hope all of you enjoyed the day.
Thanks Guys, Good Hearing From Everyone.
We had a small get together and big feast with relatives . . . Turkey, oven roasted and deep fried, and all the fixings, tons of stuff. We did a Birthday, too.
I've been practicing healthful eating and exercising everyday for well over a year, so I guess today it was OK to eat so much. I still got the crunches and treadmill in this a.m. Back to whole grains, yogurt, and fruit, nuts, and vegetables tomorrow. I don't mind.
CSA
We had popcorn, toast, pretzel sticks, and jelly beans.
"We had popcorn, toast, pretzel sticks, and jelly beans."
That reminds me of my bachelor days when one of my normal meals (when I wasn't going for fast food) was Banquet frozen chicken and for a vegetable . . . popcorn.
Were those Jelly Belly beans or just stock ?
CSA
Had a nice Thanksgiving dinner with turkey and all the trimmings. My wife and I are now starting to make different dishes from the leftover turkey…turkey soup and turkey salad for sandwiches. In about three days I will swear off turkey for good until Christmas.
"Were those Jelly Belly beans or just stock ?"
Did you think I was serious? I was watching Charlie Brown's Thanksgiving.
We had the usual stuff, only Cornish game hens instead of turkey. I made homemade ciabatta bread. We're both trying to lose weight so we agreed to keep it simple and light.
I was on a 120 mile trip listening to packers win on the radio, We had turkey, vegetarian stuffed portablello mushrooms, meat and meatless stuffing, pumpkin ravioli, asparagus and hollendaise (made by me the old fashioned way, we have 2 vegetarians) cranberries, gravy, rutabagas ie turnips, and pumpkin pie and chocolate silk pie with really good coffee for dessert.
I would have liked to eat so much I would have to sleep, but moderation ruled. Happy thanks to y'all also! Now time for xmas shopping.
I already got my Christmas lights up, just need to plug them in.
Had them up since last December.
Oh you are the guy that did not take the lights off! I thought April was the deadline for removing xmas lights. Last year on fairly new stuff did our dwarf Norwegian pin with 3 sets of lights, each one only half working, and doubled up the icicle lights because 2 sets half not working. This year, I am done with icicle and net lights, put the wreath with green and white lights, thinking about a splash of red lights in the wreath, but done with the other lights. I was going to buy more, but they were cheaper last year I think, it is not worth 2 $10 net lights for the tree and even more for the icicle lights for the gutters, plus electricity to inspire me to do it.
Barkydog, every neighborhood needs its own "Clark Griswold" and I think you ought to go for the computer controlled lights synchronized to Trans-Siberian Orchestra music. Ruin your neighbor's sleep. Create traffic gridlock in your neighborhood from onlookers. Become a major destination for xmas light display viewers. You won't need to shovel snow, your xmas lights will melt it.
You've got 3 types of christmas light decorators.
The crazy:

The lazy: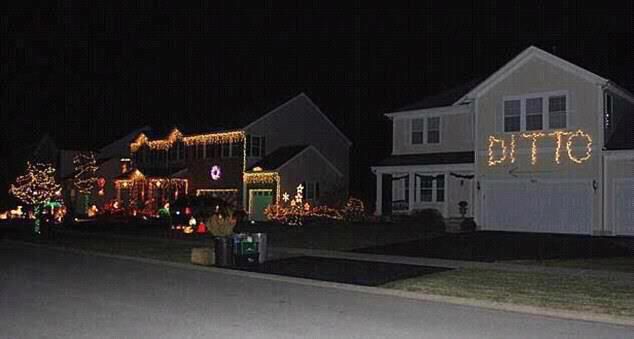 and those who don't care/don't celebrate christmas