2002 acura el, basically a fancier canadian version of a civic. 1.7l v-tec engine.
Anyways the (5 speed manual) transmission makes an odd clicking noise that sounds similar to putting a card in bike spokes when you were a kid. Its hard to describe here is a video [URL=http://i878.photobucket.com/albums/ab341/mikeinaus/Mobile%20Uploads/20161022_153607_zpsgfmgxlyj.mp4]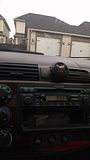 [/URL]
It happens 80-90% of the time but occasionally sounds normal, seems to be getting worse lately,
responds to rpm increase but gets drowned out around 3200rpm, and cant really be heard in 4th or 5th gear
doesnt make the noise when rolling or reving in neutral, or when driving in reverse.
Sounds like its coming from the bottom middle of the engine bay, around the input shaft or where the passenger side cv connects.
anyone have any ideas? This has been driving me nuts for months!
anyone